Uganda Parliament Illuminates Orange to Show Solidarity against Gender-Based Violence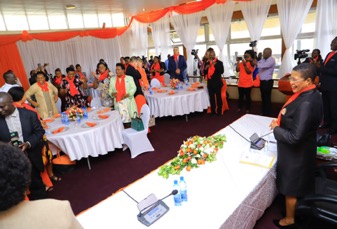 Uganda Parliament Illuminates Orange to Show Solidarity against Gender-Based Violence
On November 25th, 2022, the Uganda Women's Parliamentary Association (UWOPA) joined the rest of the world in commemorating the 16 Days of Activism against Gender-Based Violence (GBV). The International Day for the Elimination of Violence against Women and Girls was marked, and this run up to December 10th, which was commemorated under the Human Rights Day. UWOPA, with financial support from the Netherlands Embassy, and UN Women, used this time to galvanize action to end violence against women and girls in the country.
One of the major activities that UWOPA conducted to commemorate the 16 days of activism against GBV was illuminating the Parliament of Uganda with orange decorations. This was a clear statement to the world that the Parliament of Uganda stands in solidarity with other activists to fight violence against women and girls. Major points within Parliament were decorated with orange colors and lights, creating visibility for the 16 days of Activism and enhanced awareness raising to the public about Gender-Based Violence on women and girls.
The event attracted high-level participation with Rt Hon Anita Annet Among, Speaker of Parliament of Uganda as the Guest of Honor and UN agencies (UNFPA, UNWomen), Embassies (Swedish and Netherlands), Representatives from line ministries, Members of Parliament, Parliamentary Staffs, like-minded Civil Society Organizations, Women Activists and several media houses took part in the event. This demonstrated and strengthened commitment among various stakeholders, especially Parliamentarians, to the fight against GBV.
During plenary, Rt. Hon. Anita Annet Among, Speaker of Parliament, tasked the ministry of Gender, Labor and Social Development to address laws that address GBV during the 16 days of Activism because the population is not aware. She requested women to be submissive irrespective of their positions to avoid GBV in homes. The minister, in her statement, called upon all stakeholders to join hands and fight GBV in all its forms because it affects everyone including men.
"Much of our work is to unite together and end Gender-Based Violence without eliminating anyone who is experiencing it," said H.E Karin Boven, the Ambassador of Netherlands.
"There is a need for Parliament to budget and finance activities aimed at fighting violence against women and girls," said Paulina Chiwangu, UN Women Country Representative.
"Members of Parliament should fight against all forms of violence against women and girls, emphasize girl child education and girls should marry after the age of consent" said Hon. Amongi Betty, Minister of Gender, Labor and Social Development.
Hon. Members also tasked the minister to come up with a budget for GBV elimination laws and ensure they are implemented. The event was a success in raising awareness and building commitment to end GBV among all stakeholders.
"The event is about advocacy and awareness raising on the need to prevent violence on women and girls," said Hon Sarah Opendi, Chairperson of UWOPA.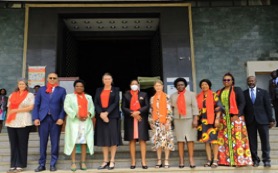 The 16 Days of Activism is an international campaign that originated from the first Women's Global Leadership Institute in 1991 and recognizes that impunity, silence and stigma have facilitated violence against women to escalate to epidemic proportions. It's estimated that one in three women worldwide experience GBV.