Consultative Meeting with Members of Parliament on the Marriage Bill 2022
Members of Parliament attend a Consultative Meeting on the Marriage Bill 2022
The Marriage Bill 2022 is an act to reform and consolidate the law relating to Civil, Christian, Hindu, Bahai and Customary marriages; to provide for the types of recognized marriages, marital rights and duties; separation and divorce, and consequences of separation and divorce; and other related matters.
Comprehensive studies by different Government agencies on laws regulating marriages in Uganda reveal an urgent need of amendment of these laws to align them with the 1995 Constitution of Uganda. The laws regulating to different types of marriages in Uganda have become obsolete in light of the Constitution, government policies and international best practices that have also evolved.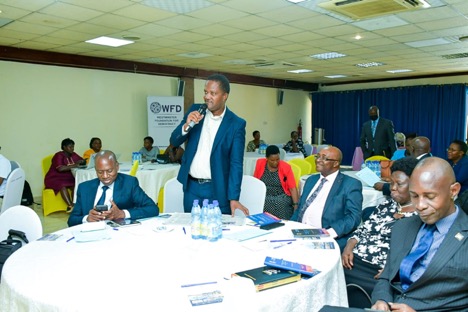 UWOPA with financial support from EU Spotlight Initiative through UNWOMEN is implementing 18 months project on 'Upholding the Rights of Women and Men through Gender Sensitive Legislation. The project aims at promoting and protecting the rights of women and girls through effective gender responsive legislation, policy influencing and budgeting. In the same line, UWOPA organized a half day consultative meeting on the Marriage Bill with Members of Parliament, Religious and Cultural leaders, and representatives from Civil Society Organizations. In the meeting, the members were taken through the various clauses in the Bill to enable them understand content therein, get their input to the Bill as well as gunner support for the Bill once tabled on the floor of Parliament for debate.